Date of Birth: October 11, 1953
Birthplace: Beverly, MA USA
Height: 6' 4"
Other: Blue eyes, blonde/grey hair
Spouse: Susan Wheeler Duff
Anniversary: June, 19, 1982
Children: Three (Twin sons and a daughter)
Parents: Charles and Jacquelyn Morse
Siblings: Three younger sisters
David Morse Online is an unoffical web site, for David Morse. To help us keep the site going, we need your help. If you'd like to support the site, we'd welcome your voluntary donation.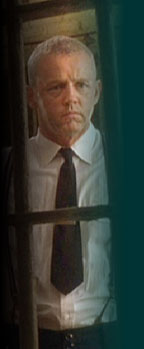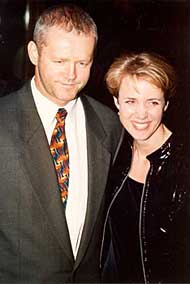 David Morse began his career on the stage in the 1970's, appearing in over 30 productions between 1971-1977 with the Boston Repertory Company. In the late 1970's, he continued his stage career with the Circle Repertory Theatre in New York. In 1980, he made his theatrical film debut in Richard Donner's acclaimed drama Inside Moves, with John Savage.
Subsequently, Morse was cast as Dr. Jack "Boomer" Morrison in the long-running TV drama St. Elsewhere, which ran from 1982-1988. During this time, Morse appeared in many TV productions, including Shattered Vows, Prototype, When Dreams Come True, etc.
In 1991, Morse appeared in Sean Penn's directorial and writing debut, The Indian Runner, with Viggo Mortensen. From 1991 through 1995, he performed mostly in television productions, including Dead Ahead: The Exxon Valdez Disaster, Miracle on I-880, Tecumseh: The Last Warrior, and Stephen King's mini-series, The Langoliers. His theatrical productions included small roles in The Good Son, The Getaway, and Magic Kid II.
The 1994 earthquake in Los Angeles destroyed his Sherman Oaks home at which time Morse moved with his family to Philadelphia, his wife Susan's home town. As he was no longer living in the television capital of L.A., his career moved more towards movies while still keeping his hand in appearing in stage productions. In 1995, he reunited with writer/director Penn, appearing in The Crossing Guard, with Jack Nicholson and Anjelica Huston. He also had a small but crucial role in Terry Gilliam's The Twelve Monkeys in 1995.
In the latter 1990's, Morse's film career really began taking off as he became established as a respected supporting, character actor and second lead. He appeared in Michael Bay's The Rock, with Sean Connery, Ed Harris, and Nicolas Cage, in Contact with Jodie Foster, in The Negotiator, with Kevin Spacey and Samuel L. Jackson, and with Melanie Griffith in Crazy in Alabama. In 1999 he appeared in Stephen King's, The Green Mile, with Tom Hanks, a role which won for him almost universal admiration. The year 2000 brought him another crucial supporting role as the kidnapped husband of Meg Ryan in Proof of Life.
He also expanded his range by taking on small villianous roles, such as in Extreme Measures with Hugh Grant and The Long Kiss Goodnight, with Samuel L. Jackson and Geena Davis. He continues to favor these type of roles, appearing more recently in Lars Von Trier's Dancer in the Dark, with Bjork as wells as in Bait, with Jamie Foxx.
In 1997 he returned to the Off-Broadway stage appearing in Paula Vogel's Pulitzer Prize-winning drama, How I Learned to Drive. For his starring role, Morse won the DramaLogue Award, the Lucille Lortel Award, the Drama Desk Award and the Obie.
Morse appeared in the PBS production Diary of a City Priest as well as providing the voice of Abraham Lincoln in PBS's Abraham and Mary Lincoln: A House Divided. In 2001, he had a small role in Stephen King's Hearts in Atlantis.
In 2001 Morse starred as Gideon in the Independent movie The Slaughter Rule, which had a limited theatrical release and was then released on Region 1 DVD.
Morse then starred in the Sony Pictures Entertainment release of Double Vision, which premiered at the Cannes International Film Festival in May, 2002. Double Vision was given a theatrical release in Asia in late 2002/early 2003 and was recently released on DVD.
For his role as Kevin Richter in Double Vision, Morse was nominated as Best Supporting Actor in the prestigious 2002 Golden Horse Awards (The Chinese equivalent of the Oscars for Chinese movies). His nomination marked the first time an English-speaking actor had ever been nominated for the Golden Horse.
Most recently, Morse appeared in the 2002-2004 CBS series, Hack, which was filmed in Philadelphia, close to his home. He will next be seen in the theatrical movie Down in the Valley, with Edward Norton and Evan Rachel Wood, currently scheduled for a 2004 release,