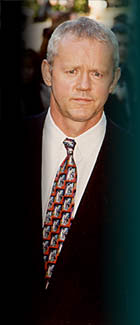 David Morse Online is an unoffical web site, for David Morse. To help us keep the site going, we need your help. If you'd like to support the site, we'd welcome your voluntary donation.
Archived News

for May 7, 2001
Site Launched April 21, 2001
Welcome to David Morse Online. This is an unofficial web site devoted to the talented and versatile actor, David Morse.
Perhaps you've seen him, in one movie or another, but just can't quite place him. Well, that's what this site is for. When you explore the many links, in this site, you'll soon discover the many movies and TV programs that have featured this very gifted actor.
Be sure to check out the Photo Gallery as well as the Video Gallery. The former features stills, from most of David's Movie and TV productions, while the latter features QuickTime movies of interviews with David as well as promos of David's shows.
If you have any comments about the site or anything else, please send them to me at the David Morse Online Contact Center.
Now requesting voluntary contributions to keep David Morse Online afloat.
David Morse Online is an unofficial web site for David Morse, but we do strive to keep the site as updated, as we can. If you can contribute, thank you.
Attention Hack fans! Netflix is streaming the entire series of Hack. There are no DVDs available to rent but you can watch the episodes if you subscribe to Netflix's streaming service.

I just finished watching the Hack Pilot episode and episode 2 Favors. Wow, it was great. Like visiting an old friend you haven't seen in a long time. What a great show that was! (12/03/2011)

David Morse's movie Mint Julep has been released on DVD. The plot according to the official web site, "A lonely, sticky fingered waitress is looking to leave town while her complacent insurance salesman husband gets taken for a ride by a Southern viper. Romance, murder, golf and freight trains are the themes of a strange trip through the South in this darkly comedic feature film."

Stay tuned for my upcoming review of Mint Julep! (08/08/2010)

David Morse has joined the cast of the HBO New Orleans drama Treme. He will play a three-episode arc as a New Orleans Police Department lieutenant starting in episode five, which airs on May 11, 2010. A 30-minute overview of the show's setting titled Beyond Bourbon Street: Treme airs on HBO at 12:45 p.m. on Sunday, April 18, 2010. (04/16/2010)

David Morse's long-delayed movie Shanghai is now tentatively slated for an April, 2010 release in the USA.

Shanghai was originally scheduled to be released in December of 2008 but was delayed due to financial difficulties of The Weinstein Company. (01/26/2010)

Tristin is the winner of the David Morse Writing Contest!

To recap, "the contest was to write, in 500 words, or less, something about David Morse that brought you, to visit this site. Perhaps something like a role, in one of David Morse's movies, TV shows, or stage productions, where you really said, to yourself, "I have to find out more about that guy." And so, you ended up, here."

A Big Thank You to everyone who entered!

Here is Tristin's Winning Entry.

"When I'm ill or out of sorts just the right movie changes my outlook entirely; even heals. This was the case in early 2007 when my husband and I received bad news about our first pregnancy. Some healing came quickly though there was a hole left that I couldn't quite manage.

One day, I popped in The Green Mile. It's a favorite; there's something about David Morse's portrayal – his protectiveness, wit, and sincerity – as (ironically named) "Brutal" that really touched me. I remembered seeing him in other movies and even TV. I began searching online to find more of his work that I hadn't yet seen.

This is what brought me to David Morse Online. The stories, history, pictures, and information about David's work over the years is just wonderful. I poured through the older stories and learned about his other works. I rented or purchased almost everything that was commercially available. There's something about David's diversity, skill, and the choices he makes in projects that made me want to see more and more of his work. From St. Elsewhere to John Adams, I immersed myself, and slowly that hole began to close. Though . . . I still find I can't get enough of David's work.

I also visited the site off and on to catch up on the latest news. I was excited to learn in late 2007 that David was going to star in The SeaFarer on Broadway. NH isn't too far from NY, and I hadn't yet been to the big city – seeing the show was my husband's Christmas present to me that year; the best and most thoughtful gift! It was my first play; David was larger than life and both he and the play were amazing! I count myself lucky to have seen it during its short run and I'll treasure the experience always.

We learned in late 2007 that we were expecting and now have a bubbling and giggly 9 month old daughter. I remember seeing somewhere that David voiced a character on a television version of Madeline . . hmmm . . I'll have to see if that is available somewhere . ."

Tristin is the happy winner of four of David Morse's DVDs. Pictured here, Hearts in Atlantis, Crazy in Alabama, Proof of Life, and The Negotiator.

(Site Editor's Note: It was David Morse's portrayal of "Brutal" in The Green Mile that led to the creation of David Morse Online! (01/25/2010)

The Hurt Locker is available on DVD in Region 1. Buy it now, from Amazon.com. (01/25/2010)

The Hurt Locker topped Avatar to win the Producers Guild Award for Best Produced Motion Picture on January 24, 2010. As a sign of how the Oscar nominations might come out, Dave Karger at EW.com is predicting that The Hurt Locker will garner a total of 8 Oscar Nominations when they are announced on February 2, 2010. (01/25/2010)

David Morse's movie Mother and Child is being screened at the Sundance Film Festival, which is continuing through January 30, 2010. (01/25/2010)

David Morse has been cast in Empire State, a pilot being developed for ABC for the fall. The Futon Critic describes the show as a "drama about a modern-day romeo and juliet-esque romance set against the conflict between two manhattan families - one of blue collar iron workers and the other of the wealthy real estate tycoons that run them." David Morse plays the blue-collar father.

Interesting. (02/27/2009)

Inside Moves, David Morse's first theatrical movie, is being released on DVD in Region 1 on February 3, 2009. Buy it now, from Amazon.com

If you buy the DVD through Amazon.com, David Morse Online earns a small commission. Thank you for helping, the continuance of this site. (01/28/2009)

Here is the trailer for David Morse's movie The Hurt Locker. (01/08/2009)

Don't forget to check out the News Archive!
Search the David Morse Online Web Site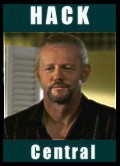 Hack news, episode summaries, photo and video galleries at Hack Central.